Nyhet 2023-11-02
Press statement from Positive Vibes – High Court hears pioneering constitutional challenge to discriminatory laws targeting LGBT Namibians
Afrikagruppernas partnerorganisation Positive Vibes i Namibia som sedan länge kämpar för HBTQI+ personers rättigheter har under en längre tid stöttat aktivisten Friedel Dausab som valt att driva en rättslig kamp för att sina och andra Namibias rättigheter. Positive Vibes och Friedel Dausab menar att den lag som förbjuder homosexualitet i Namibia i själva verket strider mot de grundläggande mänskliga rättigheter som finns inskrivna i landets konstitution. Fallet lämnades in i juni 2022 och under tisdagen den 31 oktober 2023 prövades detta banbrytande fall inför High Court i Windhoek.
"Jag är mycket glad över att dagens utfrågning har gett chansen till HBTQI+ personer i Namibia att hävda sina konstitutionellt skyddade rättigheter. Vi väntar ivrigt på domen den 17 maj 2024" säger Flavian Rhode, Director för Positive Vibes i Namibia.

Läs pressmeddelandet i sin helhet nedan!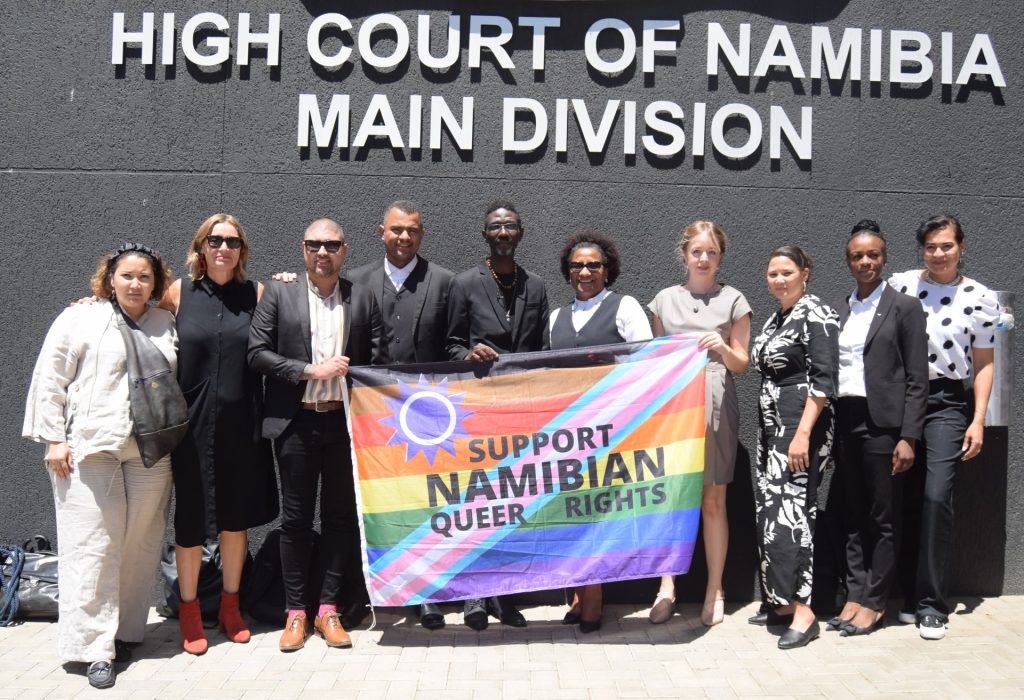 High Court hears pioneering constitutional challenge to discriminatory laws targeting LGBT Namibians
Windhoek, Namibia – 31 October 2023
On the 31 October 2023, a pioneering case challenging the constitutionality of Namibia's sodomy offences was heard before the High Court in Windhoek.
The criminalisation of sodomy is found in the Common Law of Namibia, which was inherited from South Africa at independence. Currently, this law, along with the common law crime of "unnatural sexual offences", criminalises certain sexual acts between men. The sentences attached to the offences are not clear.
The case was filed in June 2022 by long-term activist Friedel Dausab, who asserts that by criminalising consensual same sex-activity between men, the offences violate fundamental rights enshrined in the Constitution of the Republic of Namibia and the African Charter on Human and Peoples' Rights. These include the rights to equality and non-discrimination, human dignity, privacy and expression.
During today's hearing, Friedel Dausab's advocates spoke to how the sodomy offences violate his client's rights. In underlining the role of the Namibian Constitution in protecting minorities, they noted that majority opinion does not trump the fundamental rights of citizens and that prejudice should never justify discrimination.
'I am very pleased that today's hearing has given the chance to LGBTQI Namibians to assert their constitutionally protected rights. We eagerly await judgment on 17 May 2024,' says Flavian Rhode, Executive Director of Positive Vibes Trust, a Namibian organization campaigning for equity and justice for all people, including the LGBTQI community, which is supporting Friedel Dausab in his legal challenge.
How adults conduct their private lives within loving, consensual relationships, and in the intimacy of their own homes, should not be a matter for state interference,' added Rhode. 'The Namibian Constitution – the supreme and homemade law of our land – should be respected and upheld as sacrosanct. Obsolete and outdated colonial laws that breach our Constitution have no place in a diverse, post-independence Namibia, and should be relegated to the history books,' he said.
There is no evidence that anyone has been convicted under the common law sodomy offence since independence, although there have been arrests. Nevertheless, the mere existence of these offences is itself a violation of human rights. The Namibian LGBTQI community suffers verbal and physical abuse, violence, harassment, blackmail and discrimination as a result of the environment of shame that these laws create, says Positive Vibes Trust.
'I am challenging these laws as a lifelong and dedicated activist because I am acutely aware that criminalisation is a clear obstacle to living a full, open, honest and healthy life. Through my own personal experience, I can also attest that they hinder the prevention of HIV infections and access to lifesaving treatment to prevent AIDS, whilst making gay men like me easy targets for abuse,' says Friedel Dausab. 'But most of all, I am tired of feeling like a criminal on the run in my own country simply because of who I am. Just like most Namibians, I want the chance to find love and to know that I belong.'
Friedel Dausab and Positive Vibes Trust are not alone in the belief that these laws need to go. In a recent report, the Namibian Law Reform and Development Commission said, 'The Namibian house encompasses all Namibians and the laws on sodomy and unnatural sexual offences are contrary to fostering a culture of dynamic inclusion for all members of society, including the LGBTQI community. These laws should be repealed.'
In the SADC region over half of the member countries have now decriminalized same-sex sexual activity, such as Mauritius, Angola, Mozambique, Botswana, Seychelles and South Africa, leaving our country increasingly as an outlier.
Notes to editors
Positive Vibes Trust (PV) is a Namibian-registered queer organisation working primarily in Namibia and Africa, with programs in the Middle East, South-East Asia & Central America. PV's work centres around the themes of development, human rights and inclusion. In Namibia, much of PV's work focusses on the realisation of the rights of LGBT communities, as well as sex workers.
Friedel Dausab is represented by a Namibian legal team and Gilbert Marcus SC. He is supported by the Human Dignity Trust.
For more information or interviews please contact:
Salen Kambinda – Namibian Director, Positive Vibes Trust
T: +264 61 245556